Wholesale Picnic Table orders are generally shipped
within 7 days of order date.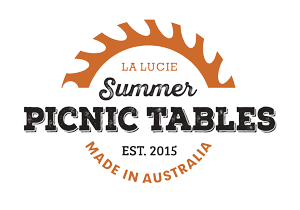 Folding Wine Tables
&
Wine Glass Holder Tray – The Party Palette
$15 Flat Rate AUSTRALIA WIDE on all orders!
Designed and handcrafted in Australia, these nifty folding Wine Tables are available in Petite, Picnic and Banquet Deluxe sizing.  They are the perfect addition to your day out at the beach or party in the park, you can bring it to any outdoors outing or event.  Simply fold out the legs, pop it on the ground or table, add your food and drinks and you're ready to go.
Each folding wine table has wine glass cutouts and a secure bottle holder to keep your glasses and drinks off the ground and upright and many of our range come with an ice bucket included!
The legs on our tables fold flat to allow for easy storage.  There's even enough room to add a plate of food!  They really are the perfect accessory for any outdoors activity. When you're finished, wipe it down, fold the legs back up and pop it away.
Perfect for 2 people
Ideal for 2-4 people
An ice bucket is included with this beauty to keep drinks cold and is just the right size for 6 people
Hand-held tray lets you safely and easily hold your wine glass and nibbles while you confidently work the room.
The entire Picnic Tables range is widely popular for:
Camping Trips
Outdoor Concerts
Romantic Picnics
Day in the boat
By the Pool Side
A trip in the Caravan
BBQ and parties
Moonlight Cinema
Outdoor Concerts
Sporting events
Or pop it on the table to hold nibbles & Drinks
Available in 4 different colour schemes inspired by the Great Australian Outdoors
Blue Bay – White & Aqua hues
Sunset – White, Blue & Red Shades
Natural – Natural timber
Chocolate 2-Tone – Stained Chocolate top, Natural legs
Also available in a variety of engravings or visit our Design Your Own to customize your message
 Each of our folding wine tables are hand-created, hand-painted and are sealed with 2 coats of exterior grade water based varnish to protect from spillages.  To best care for your picnic wine table, just wipe it down with a damp cloth before putting it away.
The Summer Picnic tables range is made from sustainably grown plantation pine
Check out our Instagram page for some awesome shots of our tables in action
https://www.instagram.com/summerpicnictables/
Questions or Comments?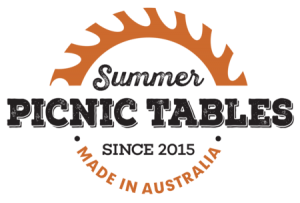 Petite, Picnic and Banquet Folding Wine Table
This Australian designed AND made product has been attracting lots of sales to our Australia and New Zealand stockists.
Please see all product details and pricing in the Shop Page.
shots of our tables in situ:
https://www.instagram.com/summerpicnictables/
Questions or Comments?